Westport Washington is one of the premier charter fishing destinations on the West Coast. Every year people travel from all over the country to come and fish in Westport with Westport Charters. We offer a variety of trips that are great fun for all ages and levels of fishing experience.

Westport fishing trips include Chinook and Coho Salmon, Rockfish and Ling Cod, Halibut / Bonus, Albacore Tuna, and Combination Trips. Each provides an unforgetable experience. Visit our trips page to get details on each kind of trip.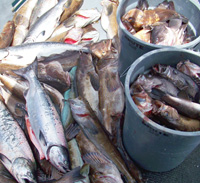 Our boats page shows pictures of our fleet. If you have never fished before, be sure to check out the first-timers page which answers a lot of important questions.

Ready to go fishing yet? Give us a call, and come join us for a great Westport fishing experience. Need a little more inspiration to push you over the edge? How about that load of fish on the right? Also, check out the gallery for photos.

If you have any questions, or to make a reservation, feel free to give us a call. We begin taking reservations on the first of every year, and some of our trips and fishing dates get booked very early, so give us a call today. We look forward to fishing with you!