See what our Customers are Saying


September 21, 2010

To Steve and Jason (Hula Girl) My brother and I fished with you on Sept 9
and 10 and we had the time of our life ! Best fishing trip we ever had,
and at our age that is saying a lot. First class operation on a first
class boat. If you have any photos from those dates please forward them to
me. Thanks Again, Jim and Gary Weyand

Jim Weyand
Tollhouse, Callif
---
September 14, 2010

Here's some of the pictures mike (my new husband :) ) took when we went out fishing for rockfish and ling cod on 9-8-2010. (The last picture is my favorite.) You guys were awesome! We had so much fun! We want to try to go again next summer and were going to bring a couple friends with us. hope you enjoy the pictures!!! let us know what you think. Mike had to make the photos smaller so they would all fit in one email. He said if there's any you want full size to let him know and he'll email the ones you want full size to you.

Robyn and Mike Peterson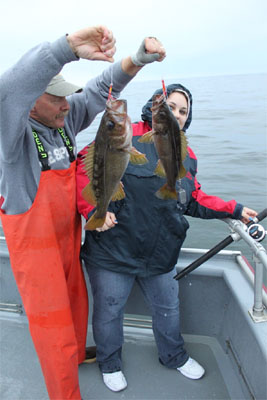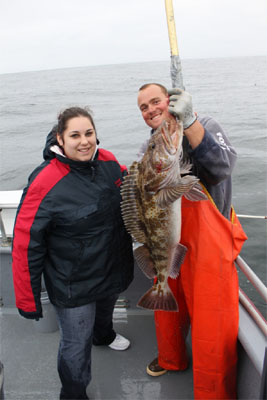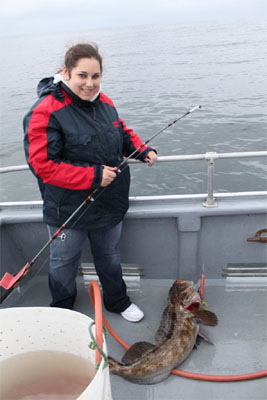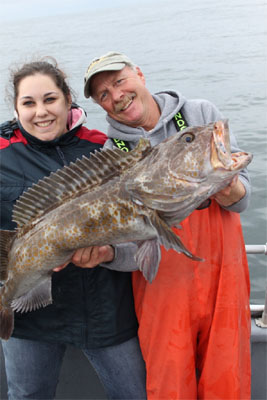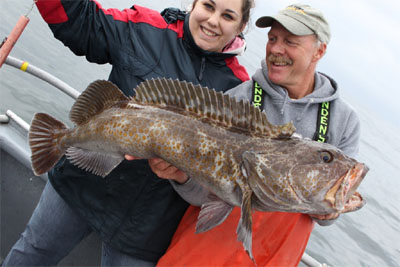 ---
September 3, 2010

Sunday, August 29th, I took a combo trip on the Hula Girl with my Uncle Grant. We had a great time. The captain and crew were excellent, and the passengers treated my 90-year-old uncle with care and respect. If course, it didn't hurt that my uncle caught one of the biggest King Salmon of the day, a 25-pounder at least (see the pics I enclosed), and that we both limited on Sea Bass. He's been bragging about it ever since to anyone who would listen. I was pretty pleased to have caught a King too.

Grant (or Granpa as the crew and about half of the fishers were calling him) is talking about coming back next year. Thanks for taking such good care of him (and me).

Joel Ramey
---
September 2, 2010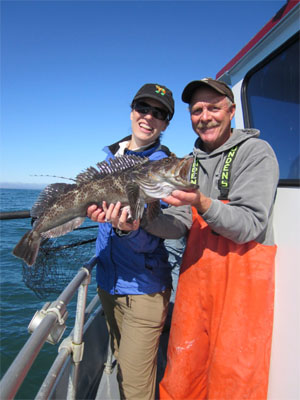 Hi Captain!

You asked me to send a copy of this photo after we got back home, so here
you are. We had a blast bottom fishing with you and your crew last
saturday! It was our first time ever ocean fishing and you really spoiled
us with the amazing number of fish we caught. We had a fish fry at a Mr
Bose's house that night and couldn't believe how wonderful that ling cod and
rockfish tasted on the day of catch. MMMMMM!!!! Thanks for taking us to
such a picturesque and bountiful fishing location and for all the hard work
you and your crew put in that day to make it incredibly easy for all of us.

Best wishes,

Clara Rangel
---
August 27, 2010

Steve/Jason:

I just wanted to drop a line and express a huge "Thank-You" for the fun time we had on the Hula Girl. I had heard of this boat for years and the "Crew That Treats You Like Family".

It was all true; Steve and Jason were professional, personal and very polite. The salmon bite was off; you worked hard so we all could have a good time.

I will share with my friends and I will return next year for more fun…

Thanks Steve

Steve Flerchinger R.T. (R)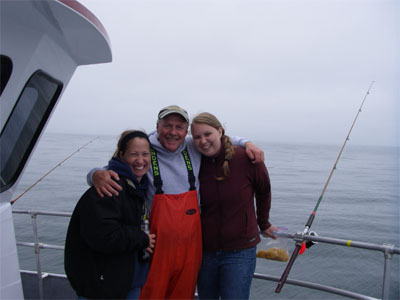 August 11, 2010

To: Steve and Jason (Co-Captains)

From: Owen Barbeau (Owen, Susan, Stacey)

Thanks so much for your overwhelming hospitality and over-the-top customer service. We all enjoy your friendship and conversation, making it a special event, talked about throughout the year(s).

Steve: You have managed to totally spoil the girls. You make them feel very special and they totally enjoy and look forward to your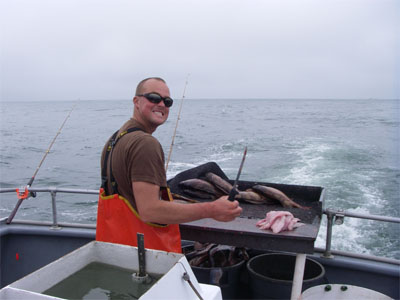 guidance and fishing on the Hula Girl – with YOU.
Jason: You are the rock star of the performance! All I hear is:
Jason said this… Jason did that…. Well I think Jason probably would have done this…
Docking the boat. Don't be surprised if remote controls show up one day to fill up that idol time.
Attached are a some pictures, that may not make Susan's photo cuts (I believe she's sending some pictures as well).
---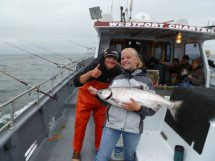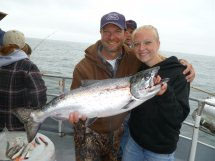 August 13, 2010

Hi Steve! Thank you so much for helping my dad and I catch a ton of fish! We had a blast. And thanks for taking the great picture of me and my dad! You guys are the best. Is Jason's cut on his arm healing up ok? See you in the spring!!!

Jamie Shepard
---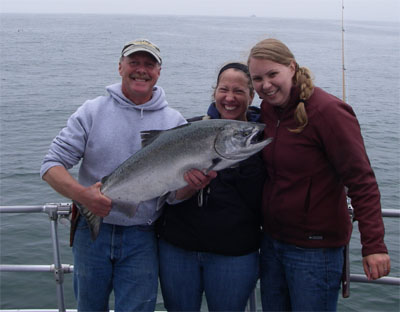 August 11, 2010

Hi Steve,

Thank's so much for a great fishing trip on Wednesday! You and Jason always know how to make the day extra fun. Attached are some pictures to enjoy. We wish you the best of luck on the rest of the season. Thanks again and we will see you next year!

~Susan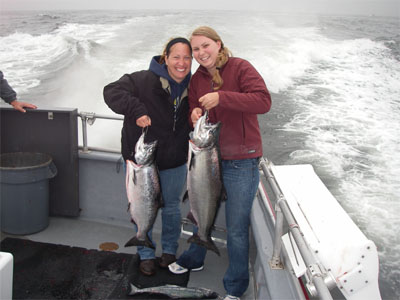 ---
August 11, 2010

Hi Steve and Jason!

I wanted to thank you for an excellent time yesterday with you aboard
Hula Girl to fish for salmon and rock cod. Although I grew up fishing
trout and other lesser fish in Montana, this was my first time deep
sea fishing (except for one time in the Mexican Caribbean, where we
put a dent into the barracuda population). I had a fantastic time and
was impressed with your ability to lead everybody in our group so that
we all had a great trip. I know for a fact that the 9 year olds had
as much fun as the 75 year olds in the group, which is saying
something great.

I put together a video of our trip yesterday with you, which we've put
on YouTube and have started to pass around to friends. It's at
http://www.youtube.com/watch?v=H9kfLLDMlUY. Feel free to use that on
your webpage or pass it along to clients or whatever. (and if you
notice any glaring errors, let me know :-))

Although I do photography as a side job and am one of those crazy
photographers who normally likes to shoot everything in his path, I
didn't take many photos yesterday due to not bringing my "good"
camera, and also having too much fun fishing anyway to be away from
the pole anyway :-)

I can't wait to fish with you again.
--
Pat Loughery
North Bend, WA
patloughery@gmail.com
---
August 1, 2010

This is Doug Easter, Captain Steve and Jason call me Pop's now...
My son and grand daughter and I had a great time and respect all the hard work that goes in to your family enterprise. The ladies in the charter shop set the tone for a day on the water with the crew of the Hula Girl. All of you work as a great team and we respect your tireless efforts to find fish and keep us safe, thank you for a great family friendly time.
Your friend, Doug Easter. "Pop's"
---
June 30, 2010

Steve or Jason,
Hula Girl Captains,

Hi guys,

Shirley and I were out with you yesterday the 30th. You took a couple of
pictures of me with the King that Jason helped me land. I hope that they
are digital so you can send them to me at steve@barrish.biz.

We really had a great time and we will do it more often.

Thanks,

Steve & Shirley Barrish
---
June 2, 2010

We were out on the Hula Girl with Steve and Jason yesterday and Had A GREAT Time! We thoroughly enjoyed ourselves and loved all of the action with the bottom fishing. We were impressed with how clean the boat is, how hard both men worked to keep everyone happy and fishing. We shared our fish with our neighbors and they wanted to know all about the boat and the charter etc. They are interested in salmon fishing. We copied the brochure and gave it to them—we're sure you will be hearing from them once salmon season opens.
We will definitely be fishing with you guys again tho' not for bottom fish this year—our freezer is full as of yesterday. But NEXT YEAR you'll see us again! And we will see you once salmon fishing starts—we think yesterday's trip was the VERY BEST and can't wait to go out again. I signed us up for your e-mail fishing reports, too, so we'll keep in touch.
Thanks again for a fun trip. Janet and Howard Lagerstrom
---
---
September 13, 2009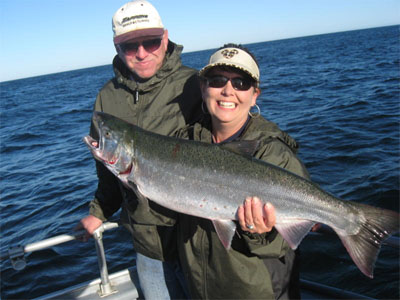 Steve & Jason -
Just wanted to drop you a note to say "thanks again" for the fishing trip. The weather was a gift and the fishing too. Well worth the drive across the state. You guys made it such a fun trip...........................here's the pic you took for us -

Take care - Mike and Theresa

---
July 6, 2008

Dear the Hula Girl Crew, (Steve and Jason)

I would like to take a moment and thank you for the wonderful time that we (The Mr Electric crew) had on your boat the Hula Girl. For some of us it was our first time on a charter boat out in the ocean fishing for Salmon. Steve and Jason were awesome. They were always there helping us out, and giving us tips on what to do. They made this trip the best that I have ever been on!
Steve, you were great. You didn't stop until we started to catch some fish. You were determined to give us a good time. (and you did) The fish didn't wake up until about 12 pm, and that for sure wasn't due to lack of effort! You made this trip an unforgettable experience!
Jason, you are the best! You were always there helping us with our lines. Making sure that we had bait, and cracking jokes all day! Thank you for helping us catch fish, and making this the best trip ever!
The two of you make a great team! And we will for sure be back on your boat!
Sincerely,
Jennifer Robarge

---
June 25, 2008

Wow what a great day of fishing with Steve and Jason on the Hula Girl today. This was a special trip for my, my son and my dad (85) ... kind of a three generation fathers day thing.

We have been out on a few other charters, but this was best by far! Things started slow, but Captain Steve found the hot spot and we came in with a boat limit.

Steve and Jason come across as total professionals, seem to enjoy what they are doing, and genuinely interact with everyone.

We'll be back for sure. Please pass along thanks to these guys for their personal attention.

Doug Maas

---
May 12, 2008

Steve and Jason -

Thanks for a most exciting experience of my life! It had been over 30 years since I had a fishing pole in my hands. The fun I had and exhilarating feeling of the ocean experience was great! I will remember the thrill of my Halibut fishing trip forever.
Looking forward to another one!
Ron Forsyth
South Jordan, UT – Fish On!!

---
May 4, 2008

I wanted to write to you on behalf of my family and I to thank you for the wonderful time we had bottom fishing on the Hula Girl on April 10th, 2008. My three sons (ages 12, 13, 15) and wife have never been charter fishing before. They were excited about going but also a little apprehensive, especially my wife. The pleasant and confident staff of Westport Charters allayed most of their fears. The Hula Girl was beautiful and appeared well maintained which gave us additional confidence in the staff. Hula Girl Captain Steve Westrick and deckhand Jason Westrick (also a qualified captain) were professional and accommodating from the time we boarded their vessel. Despite the frenzied pace when the fish were coming in fast, the friendly crew remained calm and performed their duties with amazing efficiency as they landed fish and baited hooks. While onboard we never heard any profanity from the crew or observed any careless behavior. It was clearly evident that they wanted to do their best to ensure a fun, safe and productive experience. Captain Westrick even took the time to teach me a certain knot and to stop the vessel on our return trip to let the passengers observe some whales.
We thoroughly enjoyed the experience and will undoubtedly return for more fun and also refer others to your charter company. You may post this letter if you like.
Kind regards –
William Osborne and family

---
March 13, 2008

The Westricks,

I just received your new flier and it looks great. I realized that I did not send a thank you letter for our wonderful trip last year. We had boked the 7th day of Halibut season and it got closed on us at the last minute so we decided the 11 of us would just go bottomfishing instead. Steve and Jason put us on the fish and did not stop til we had our limits. Being my second trip on the Hula Girl, it assured me that we will not be looking for any other charter boat on the West Coast!!! Superior customer service from the charter desk to offshore. Our group of guys travels the world in search of good fishing/good times and have fished on countless charter and guide boats and we all agreed that the Hula Girl and its crew are the best any of us had ever fished with.

We are dissappointed we will not be joining you this year due to a full schedule but are already planning on a Halibut bonus trip in May of 2009.

A late thanks is better than never and we all look forward to fishing with you again,
Catch you later,
Chris Benson
---
July 23, 2007

Dear Steve & Jason & the Mrs! Here's a photo of our 2nd grandson, Austin, with one of his Sea Bass - he did catch one Ling Cod, which he really enjoyed! You know, one of the main reasons we will always fish with the 'Hula Girl' is because of the way in which both of you cater to children - we sincerely appreciate the manner in which you make them feel 'so' important! Also, when there is someone who is 'sick' - I see the compassion in your facial expressions, as well as see you trying to escape the area!!! (The woman in the photo is me, Grandma Gwen) My husband and I are desiring to purchase a boat - not one as big as the Hula Girl, but maybe a 28 footer - that we can fish from on local lakes, as well as the sea on occasion. Any advice or helps you could offer would be appreciated. Look forward to seeing you next year!

Our Love -
Steven & Gwen




---
June 4, 2007

June 4th we were fishing with you on the Hula Girl. I just wnated to tell you again from myself, Steve and Hal that we had an awesome experience aboard your boat. Jason is an excellent mannered and knowledgable deckhand. I haven't been on another charter baot before, but you tow (Steve and Jason) have made me a fan of yours and I will bo more than happy to send anyone wanting to experience a charter fishing trip your way. All I can say is TOP NOTCH. You are very pleasant hosts, and Jason's fillet speed is out of this world. Thanks again Steve and Jason.
Shawn King
I WILL BE BACK – AND SOON!!!

---
May 30, 2007
I wanted to thank Steve and Jason for an awesome trip this Wednesday!!! I took my father and stepfather for Father's day and they loved it. Also please pass on to Steve that I figured out why I am on his mailing list. We went fishing with him about 5 years ago, not on the Gold Rush like we thought we had…we sure thought Steve and Jason looked familiar… Anyway, please pass this THANK YOU on to them please.
Chris Moen
Ellensburg, WA

---
March 24, 2006
Steve and Jason,

We had a great time on the Hula Girl last Saturday the 18th fishing for lingcod and bass. I must say Jason is the fastest fillet seaman we witnessed. Once again thanks for the great time and we had the first of fish Sunday, mmmmmGreat.
The Jensen's.
Jerry T. Jensen
---
March 20, 2006
Kelly, Steve, and Jason,

Thank you again for another (of many) great fishing trip on Saturday. As usual everything about your whole operation is top notch. Jerry Jensen had a super time as did his sons. I rave about it so much at home that Connie and I are contemplating retiring in the Grays Harbor area in a few years.
Thanks so much for helping me out when I locked the keys in the VW. The fishing rod hook combination did the trick. If I ever get sick of fishing we could always break into cars for a living (Just joking!). Take care, your season is off to a roaring start. I am happy for you and look forward to many trips in the years to come, the next one being 5/17/06.
Take care and all the best. God Bless.
Tom McGarry
---
August 19, 2005

Hello there!

I'm Carol Lantz, and I came on a fishing trip with Will Cleavenger back in late July. We did a bottom fishing excursion on the Hula Girl with Steve and Jason. Everyone was so friendly, from Kelly in the office to Jason and Steve...and the other fishermen! This was only my second time ever charter fishing, and the last time was about 10 years ago so I was a real novice. Jason and Steve made me feel so comfortable and capable that I was feeling confident in no time at all. In fact, with a boat full of 20 guys, I was the first to yell "Fish On!!!" What a thrill that was. Well...maybe not for the guys. Hahaha. I guess it probably didn't help that I had been pretty open about the fact that I don't even like fish! But my friends sure liked that...

The last charter trip I took (out of Oregon) wasn't NEARLY this much fun! It was the crew that made all the difference. In any case, I can't wait until next year when I'll be able to come again (and hopefully bring my own son Jason!), and I will certainly book with Westport Charters on the Hula Girl (of course, I've been sharing the fish and recommending a trip to friends as well!). I'm attaching a few pictures I took and you may feel free to post them, and any of my comments on your website or wherever. Thank you again for the trip of a lifetime.

Take good care, and happy fishing!!!!!

Sincerely,
Carole Lantz
Spokane, WA
---
May 27, 2005

To Steve, Jason and Mrs. Westrick,

Thank you so much for sending the picture and $250. I just can't tell you how much fun I always have when I get the opportunity to come over and fish. It's amazing how Steve and Jason make you feel so at home on your boat, and you would swear this is the first fish they have ever caught with their enthusiasm - they make their clients feel very special. I look forward to coming back over as soon as possible, and of course I will be requesting the Hula Girl!
Once again thank you so very much for making me feel so special and I know all of your other customers feel the same way. Please feel free to stay in touch with me at any time if you think there's anything I need to be aware of - I love to hear about what's going on over at Westport.
Will be seeing you!
Wayne Glover
---



May 24, 2005

Hello,

I just returned from fishing aboard the Hula Girl with my family over the weekend. The fish were biting and the weather was good. Nice calm waters. My hats off to Captain Steve Westrick and his son Jason. They did an excellent job getting us on the fish and then getting them into the boat when we got them in close enough. This is my second year aboard the Hula Girl, and my family's first. We will be coming back again next year to get our fishing fix.
Thanks again for the great fishing.

Sincerely,
Ray, Kristie, RJ and Dani Dalke
---



Steve -

Thanks for the trip on April 9th this year with Kelly Hickman, et al. Here are a few pictures and information on the back.

Thanks again,
Mike Kirk
---
June 28, 2004
Steve, Jason & Kelly,

We just want to thank you for another AMAZING fishing trip aboard the HULA GIRL. We had an incredibly fun time on our bottom fishing trip. We'll have to chalk it up to a "GREAT" captain and deckhand, AWESOME fishing and beautiful weather. Thank you Steve and Jason for putting up with us and our crew year after year and for having the patience of Job, we really do appreciate you guys and all the hard work you do for us while we're having fun. And thank you Kelly, for keeping up with all the confusing changes that take place. Thanks so much and we'll be back to see you next year.

Tim and Bonnie Chapman
Oh yah, we will call or e-mail you about the Walleye fishing come about September and October. Let us take you out on a fun fishing trip for a change.

---
July 2004
Dear Westrick's (all 3 generations),

Thanks for just one of the best - if not "the" best - trips on the ocean. I can't begin to thank you for just being you. I still don't know how you got us there - one minute to spare. Steve was awesome - Jason was truly a track star and I wouldn't have caught that beauty without Jack getting me off the bottom a couple times.

Thank you and good fishing.
Love,
Bettie
---
Dear Steve, Jason and the Hula Girl!

We want to thank you for such a great day that we had with you on June 22, 2004. I have not been out on a charter since the late 60's or early 70's. I used to go with my dad every chance we got to fish for salmon. This was just as much fun if not more so than I recall having in those days. Of course, the bottom fish were not at all popular then. My Dad would have loved the trip we had with you. He loved to fish.
Again, thanks for your hard work and efforts in making this a special fishing day. You know that ocean and knew how to get us to the fish. We will be back again.
Jason can bait hooks and filet fish for us anytime.
Our best to all of you and best wishes for a continuing successful season.
Sincerely,
Jerry & Jan Norris
---
July 31, 2003

Dear Steve, Jason, and the Admiral,

My brothers and I have been getting together to go fishing once a year for the past seven or eight years. Three of those trips were with you and we enjoyed every one very much. This year we decided our sons were old enough to go with us and we signed on with you for the July 21st salmon trip. Needless to say it was a smash hit - you have never disppointed us. My son Kyle's salmon lasted until 4:30 pm as the derby leader and he is still talking about it.

I cannot tell you what a pleasure it is doing business with Westport Charters. You are all professional, your customer service is outstanding, and your ability to deliver a quality fun time is unmatched anywhere.

Here is a little ditty you inspired just from being so awesome...
There's a boat called the Hula Girl
As fine as a ship can be,
With Captin Steve at the helm,
Mate Jason doing the work of three.
No matter the size of the party on board
Whether its loaded from bow to stern,
With the quality of service that you get
You feel you're their only concern.
It doesn't matter what you're after
Whatever you're going for,
They know right where to take you
To get your limit and more.
They are Westport's greatest charter
Brighter than a star you'd wish on,
For the thrill of a sharply bended pole
Causing a grin and a yell, "Fish On!"

Thanks and we will see you again...Take care!

Respectfully,
Steve and Kyle Densmore
---
July 14, 2003

Dear Steve,

Thank you once again for a memorable trip. You and Jason and everyone else at Westport Charters made our trip one we will never forget. Your patience, helpfulness and professionalism make the Hula Girl the best in the fleet. Kudos from the Scouts, parents, leaders and friends of Troop 300. We look forward to next year.

Patrick Berg

---
June 30, 2003

Just wanted to thank Steve, Jack and Jason for the great experience this weekend! It was my first time out on the ocean and I loved it, can't wait to go again! We almost won the Derby for the day, missed it by 4 pounds but the trip was worth every penny. I will for sure be back and I have already gave out your web site to a ton of my friends and told them "Hula Girl" all the way! Can't wipe the grin off of my husband on catching that big King.

We will be back,
Cathy and Brain Sterbens, and Big Al
---
May 13, 2003

To Hula Girl (Steve),

Here is that picture ya wanted! Also, just a little note to say thank you so very much for the great fishing trip. It's always a pleasure to fish with ya. I sure appreciate all you do for my dad (Grover). I'm sure this will be his last Big Fish trip - he was pretty tired. It will take a few days to recoup, but then by that time it will be Salmon Time.

Thanks again!
See you soon,
Jo Farrar and Grover Smith
---
Hey Gang,

Sorry it took so long (August '02 trip). We had a blast!! Here is a picture of my 50 pounder I caught on the Hula Girl last day of the season. Thanks for a great time and a great crew. You will see us again!

Hopefully soon,
Thanks again
Alan Hogan (& Ronda Martin)
---
June 2, 2002

Hi Guys,
We made it home okay and are still talking about the best fishing trip we have ever been on!!! Our plans for next year, heck maybe even this fall, are to come back and fish on the Hula Girl. You made us feel so great (patience and personality) - what can we say, you have it all. We plan to tell everyone we know to go to Westport Charters & the Hula Girl. We had never been to Westport before but now we will return without a doubt.
Thank you for a wonderful time.
John & Debra Kite
From Elk City, ID
---
Steve -

Thanks for the fishing trip - our "whole crew" always has a blast on the boat. You and Jason are great!! We are already starting to plan for next year on the same weekend so we will be seeing you guys next year.

Take Care -

Tim & Bonnie Chapman
---
Steve,

Just wanted to thank you for a great fishing trip May 8, 2000. You and your crew were the best. Everyone I know will know about the HULA GIRL and its crew of pros. We in our group will be back.

Thanks again
Wes Hill
---



Hi Steve,

Enclosed are pictures I took of my son and daughter July 10, 2000 after fishing for salmon on the Hula Girl. Ryan won the derby that day with his 29lb 1oz king. I believe Ryan also pulled in a 22 lb King & Jessica's was slightly less. The picture of both of them shows their fish they caught that day. The man who handed out the check to Ryan said that he and/or Jessica would be in the local paper that week of July 10th. We never checked so we're not sure if they were in the Westport paper or not.

We wanted to thank you for the great fishing trip and like always it was a lot of fun to fish with you and your son! Just a reminder of our fish day on July 10th - the boat brought in 50% Kings!!! It was awesome!

Thanks again,
See you this summer.
Kristi Gray

---
We had the pleasure of fishing with you on Thursday of last week and wanted to tell you how much we enjoyed the trip. Steve, you are the consummate skipper. Your sign says "Patience, free" - you should charge for it! You certainly have that perfect blend that's needed in your line of work - patience, experience and, of course, that strong desire to catch more fish than dad, right?! Jason, thanks for helping us with everything. I have been fishing at Westport since 1961 and I truly mean this, you are the best deck hand I have ever seen on a charter. We look forward to being able to go out with you both again!

Best Regards,

Lowell and Jane Frye
---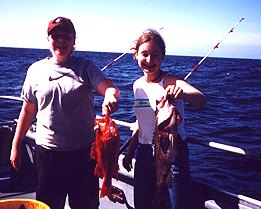 To the crew of the Hula Girl,

Just wanted to let you know what a great time the members and friends of Boy Scout troop 300 had on our fishing trip aboard the "Hula Girl" on August 26th. It was a first trip for many of our group and they really enjoyed themselves. You continue to provide a top notch service and we are looking forward to another trip. A special thanks to Steve and Jason for their help in making our trip memorable.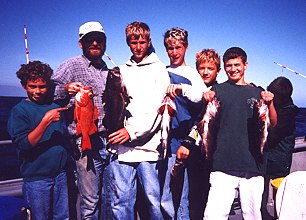 Well Done!
Patrick Berg
Asst Scoutmaster
Troop 300
Centralia, WA

---
October 1, 2002
I would like to echo Russ's comments below. Even though I got a little sick on the boat, the enthusiasm shown for those fish caught and taking us to different spots to catch different fish was a real treat. That definitely made for a much better experience than last time.
The last time we went out, we went with a different charter. The experience was less than desirable. The deckhand was very "cold" with everyone and did little to ensure everyone was having fun. And to compound matters, the captain of the ship asked us to reel in our lines after having caught less than my limit in about 20 minutes of fishing. Needless to say, there was little fun to be had on that trip.
I look forward to going fishing with you again next year....., minus the sea sickness.
Thanks again.
Rob Flajole
---
September 26, 2002
Just a small thank you to let you know how much we enjoyed our bottom fishing with you. The service was excellent, the fishing was excellent, and we plan on making a return trip again next year.
I assume that Jason is back in school, and wish you luck in finding a deck hand that is as proficient as he is.
Thank you again for a great time.
Russ Bailey
---
September 5, 2002
Please tell Steve Westrick and Jason thanks for the great fishing trip my brother and I had over labor day. I made it back to Iowa with the fish still frozen. Hope to see ya again next year.
Thanks again,
Pat and Steve Harmeyer
---
August 17, 2002
Westport Charters,
I want to commend Steve and his band of merry men for a very memorable fishing trip. He was recommended very highly to us, and we in turn will recommend him to all we know, if they're going fishing.
I was told that was Steve's son aboard the Hula Girl. A very thoughtful and nice young man & extremely helpful like his father.
Thank you Westport Charters for having such a fine crew. It made our fishing trip a wonderful experience.
Ted Malin
---
June 25, 2002
Hey Everyone,
My name is David Bergeron, and I had the great pleasure of fishing aboard the Hula Girl on Father's day with Steve, Jack, and Jason.
I just wanted to let you know that it was absolutely the best day of fishing I have ever paid for. You guys are great. I really enjoyed all aspects of the trip, even though we had a slow bite for salmon in the morning, the rest of the day totally made up for it.
I hope that when I choose to charter fish in Westport, that the services of the Hula Girl will be available to me and my friends.
I also took a bunch of pictures that day, which I haven't had the chance to download yet, but I will plan to send you some when I get a chance. There were a couple of good ones of Jason dealing with the piles of rock fish that were a total bonus as we only paid to fish for Salmon!
Thank you very much for a truly memorable day,
David Bergeron
---
May 10, 2002

Steve Westrick,

I wanted to let you know that the fishing trip on the Hula Girl was more than I had expected. you made it a great experience that I will always remember. You will be highly recommended to everyone I know. You truly are in person, just like you appear to be on your web site, a great sport and a sincere guide. I look forward to using your service and going out again in the near future. As you probably know, word of mouth sales are better than any advertisement in the paper or internet, and buddy, you got mine.

Thanks,

Paul Gallegos (The Big Guy)
---
May 2, 2002
Dear Captain Steve,
Please reserve two places on the September 18 tuna trip on the Hula Girl. Your brochure has driven us crazy and we can't wait to go. We'll be in the Alice Elliot and Richard Plona party. Here's our deposit for the trip.
Thanks,
Connie Cole
---
September 16, 2001
Jack, Steve, and Jason,
Just had to let you know myself (Kent) and my buddy (Mac) had an absolutely fabulous time on your boat. You definitely know where the fish are especially when 23 people can pull up 75 to 100 salmon in 1.5 hrs. and leave with over 50 keepers! You were great Jack. You made sure we got our feet wet (literally wet) on our first trip. You showed us a great time. Thanks for everything!
Kent Cook
---
September 15, 2001
To Steve and Jason,
This is Becky Lyons. My father, Roger Lyons and I went on a Salmon trip with you guys on the 4th of September. We just wanted to say thanks for such a good time. You are always so helpful whenever we are there. It amazes us how much running around you guys do, especially when the water is so rough. By the way, is there a time of the year to come whenwe can expect better weather? I couldn't really handle the choppy waters, I felt kinda sick most of the time =) I know its hard to predict what the water is going to be like, but at least if there's a time of the year where the weather is most likely to be a little more cooperative. I honestly don't know how you guys do it, I could barely stand up the entire time =) Also, we were curious if there's a way to reserve a spot on the boat, preferably a spot in the back.
Anyhow, we just wanted to say thank you and let you know what a good time we had. Remember, I dance hula so if you guys need a dancer for your boat just let me know, I'll come down there anytime. Thanks again.
Roger and Becky Lyons
---
September 2, 2001
Steve, Jack, and Jason,
Just wanted to say thanks again. You have a first class operation. I especially appreciated the care you took of every angler at every level of experience. And the condition of your boat (clean) and equipment was impeccable. Thanks again. See you next year.
Charlie Cobb
---
August 10, 2001
Dear Steve,
My son and I went fishing with Gary Minnoch's late July group again this year, and once again you and your crew provided the best possible fishing experience for us! Thanks and best wishes for your continued success.
Pat Friel
---
July 3, 2001
Steve:
I really want to thank you, Jason, Kelly and Amber for all you have done. I know the Hula Girl is, by far, the BEST boat in Westport. And I know the crew is the BEST on the Washington Coast.
Steve and Jason, thank you for helping me bring in the "monster" King on July 3.
Becky Bitterman
---
Steve,
I had a great time today. Sorry about the little glitch (your back problem) but every thing turned out for the best. In the future have the deck hand turn on the radar. As we are all getting older, even simple tasks are getting harder. I liked the comment that Kevin made when I picked up my mess of fish (bag). God, that's a heavy bag. I hope that you read this slowly as I only type with one finger.
P.S. Just because your wife gets to go home and have a nap after we go out to sea doesn't mean that she should have to clean out the cabin! Hope you get a chuckle out of this!
Scott Hamilton
---
May 23, 2001
Steve and Kelly:
Thank you and Kevin and Jack for a great trip. All agreed best trip ever taken on a charter (even though I didn't catch the derby winner).
Hope the season lasts through the weekend.
Stephen Phillips
---
May 21, 2001
To: All the Staff of Westport Charters,
From: Mark Basher & Friends
Re: May 20, 2001 Halibut Charter
I would like to thank all of you for a great trip. I have been on many charters out of Westport, and never had such a great time as I had on the Hula Girl. Steve and his son are great and the way the fishing is organized on this boat was excellent. We know who to call when we want to go fishing!!
Thanks again.
Mark Basher
---
Hey, thanks for a wonderful fishing trip. We all had a great time and the fishing was fantastic. Thought you might like a few photos for your album. Will do it again someday.
All the best,
Randy Benvenuti
---
April 18, 2001
Dear Capt. Steve,
Enclosed are some pictures from our charter on the Hula Girl last Saturday. This will be a trip Rich Willie, and I will be talking about for years to come. You run a tight ship. It was the best charter I've ever been on (Atlantic & Lake Michigan). And I'm not just saying that because I came home with 25 lbs of delicious fillets.
On the drive home we were already organizing a return trip. I hope that does not dismay you, because you will see us again!!
Please also extend our thanks to Jason.
Best wishes,
Alei Elliot
---
Fishing Schedule
See what our customers are saying.
View the Hula Girl photo gallery.
---
Contact Westport Charters for reservations.