Answers to Frequently Asked Questions
Q: What do I need to bring with me?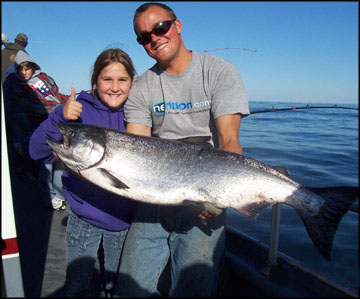 Bring a Lunch (coffee is provided)
Wear boots if you have them, or rubber soled shoes
Bring your lucky hat
Sunglasses, Camera
Dress Warm (you can always remove it)
Rain Gear (if you have it, if not we sell a light rain gear set)
Seasick medicine (just in case)
Small coolers only. No room for huge coolers on the boat.
Most of all a good night's sleep!

Q: How far out do you go?
Generally we travel between 6 and 20 miles for Salmon and Bottomfish. We travel 25-50 miles for Halibut fishing and 40-100 miles for Albacore Tuna.

Q: I don't have any fishing gear!
Westport Charters provides all the fishing gear you need and it is included in the price. The gear will be on the boat for you the morning of your trip. The vast majority of our customers choose to use our fishing gear rather than bring or buy their own.

Q: I don't know how to fish!
Perfect! We will be able to show you how to do it the right way. We have a great method for each kind of fish we catch, and new people often do well because they listen well. The skipper and deckhand will gladly show you what to do because they want you to have a great time and catch lots of fish!

Q: Do I need a license?
At the charter office we sell license stamps that are for 1 day of fishing. The cost is $10 and it is required for everyone age 15 and up. If you are planning on fishing multiple times during the season, it would be best if you bought a season license at a sporting goods store. The Washington State Department of Fish and Wildlife does check occasionally for licenses when we are on the ocean and when we get back to the dock.

Q: What about seasickness?
There are many people that never get seasick. If you are concerned, you may want to buy an over the counter seasickness medication. Read the instructions on the box. Most of them are preventative, and the instructions on the box will tell you when you should take them and how often. Dramamine is very popular, but we have seen very good results with Bonine. The charter office carries Dramamine and Bonine for sale.

Q: What do I do with my fish once I catch them?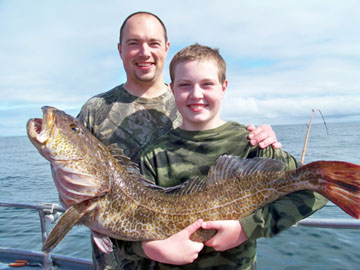 The skipper and the deckhand will do everything for you. You don't even ever have to touch your fish (unless you want to). The deckhand will clean your fish for you. Rockfish are filleted for $7 per limit. Salmon are cleaned on the way in and most deckhands will fillet them for you after you get in for a small charge. Bags are provided for you to take your fish with you off the boat.

Q: Is there someplace that sells ice for my fish for the car ride home?
The charter office sells ice for $1.50 per bag.

Q: What is the minimum age to go fishing?
Children need to be at least 8 years old to go fishing.

Q: Which trip is the most fun?
They are all very fun. Bottomfishing is a favorite of many because the limit is 7 rockfish per person and 2 ling cod per person. You get lots of action and catch lots of fish. This is the trip in which we catch the most fish. It is great for first timers because it is not too difficult. Salmon fishing is exciting, because salmon are great fighters and run all over the place. You frequently have to follow them around the boat. It takes a little more skill to catch the salmon, but the skipper and deckhand will gladly show you how. Combo trips are a combination of salmon and bottomfishing. Halibut fishing is exciting because it is a longer range trip, and the fish get big. It is not uncommon to catch halibut over 40 pounds! This trip is physically demanding. It is a longer ride, and we fish in water depths up to 750 feet! (Not that easy). Tuna fishing has been called by many "the most fun I have ever had in my entire life." When fishing is hot, you will not find a more exciting trip. This fishing is not recommended for first timers because it is better to have a bit of skill, but if you are a fast learner, you can pick up on it no problem, but we would recommend getting another trip in under your belt first.

Q: Which boat should I go out on?
Westport Charters is very selective about which boats we allow to run out of our office. All of our captains are very good at what they do. If you want to go out on a particular boat, let us know when you make your reservation, otherwise we can put you on one that is taking the kind of trip you want when you call to make your reservation.

Q: How much does it cost to go fishing?
Our trips page has all of our pricing information.

Q: How do I make a reservation?
You will find our phone numbers on our contact page. Give us a call today!

Q: What if I want to use my own rod and reel?
That is fine but there are a couple stipulations. NO BRAIDED LINE (fire line, tuff line, spider wire, dacron, etc) except on deep water Halibut trips, but still check with the office. We use 25 to 30 pound test clear mono on salmon and 30 to 40 test on bottom fish reels and this is what Westport Charters and the Boat Captains recommend. We've experienced the braided lines just don't mix well in the charter boat environment. These lines are so strong (a little to strong) and thin to the point of being dangerous, especially when snagged on the bottom. Knot tying, tangles and fouling in the boats running gear are also problematic.

Q: How's Fishing?
Fishing is always great at Westport Charters!! Have fun and FISH ON!
Deposit / Cancellation Policy: Cancellation notice must be given 21 days in advance for Salmon, Combo, and Bottomfish trips. If cancelled within 21 days, you are required to pay for your spots in full unless we are able to fill them. Halibut and Tuna trips require prepayment and are non-refundable unless your spot can be filled. Anyone who shows up intoxicated will not be allowed to go fishing, and they will not be given a refund. No exceptions.


Home

Gallery

Contact

Boats

Trips

Directions

First Timers